ORIENTATION


Grid shown at the intersection of units of latitude and longitude or by complete line.

Magnetic variation isogonic lines are indicated at the edge of the chart or are extended fully across the chart in a continuous dashed line.

Shorelines and large inland lakes are shown.

Grid Minimum Off-Route Altitude (Grid MORA) in hundreds of feet provides reference point clearance within the section outlined by latitude and longitude lines. Grid MORA values followed by a ± denote doubtful accuracy, but are believed to provide sufficient reference point clearance.

BORDER INFORMATION

This area overlapped by chart indicated
.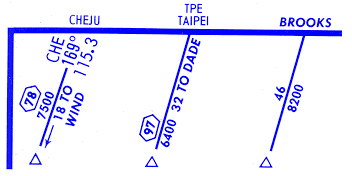 To Notes: Name outside the neatline is the next airway navaid to which the total mileage is given. Navaid identification is shown on all charts except the US(LO) and Canada/Alaska chart series. Reporting point name is shown when it is the airway termination.

To Notes: Name inside the neatline is the first reporting point outside the chart coverage to which the mileage and MEA are shown.

Airway lead information: The frequency and identifier of an off-chart navaid are shown when the navaid designates an on-chart reporting point, changeover point or course change.


MISCELLANEOUS


Outline indicates coverage of separate area chart. Information within this outline for terminal operation, may be skeletonized.

The area chart should be referred to if departure or destination airport is within this boundary to insure pertinent information is available.





On Enroute chart coverage diagrams, shaded symbol denotes Area chart coverage. Area chart name is included with shaded symbol.





Outline indicates an area covered elsewhere on the same or adjoining chart in enlarged scale. Information within this outline may be skeletonized.





Ball Flags: Number or letter symbol used to index information not shown at the point of applicability, but carried in a like-Identified note within the same panel.





Reference number for INS Coordinates. These coordinates are tabulated elsewhere on the chart and identified in a like manner.


U.S. SERIES 800 AND 900 DESIGNATED RNAV ROUTES


AUSTRALIA AND CANADA T RNAV ROUTES