Let's take a look at Combat Simulator and check if this is a next version of Flight Simulator (FS2000) or a brand new simulator.
Why would I think it is a new simulator?The Simulator is build for combat in a WWII environment and the default scenery is detailled in Western Europe only. The combat part means that the lay-out of the game menu is much more "combat-oriented" and planes can damage or destroy each other.
The scenery structure is the same but the quality is the scenery is improved. It has now 16-bit colors and Microsoft uses real elevation data, probably imported from a digital source and the scenery uses less repeated textures. There is a 3D mesh over everything with elevated areas and rolling hills. In Flight Simulator 98 we only had 3D mesh for certain areas such as Las Vegas. This 3D elevation mesh was a preview what we could expect in the real new version of FS98: FS2000. This leaded to major scenery elevation differences between FS98 and FS2000 and it made a lot of FS98 scenery unusable for FS2000.........
iIn my opnion Combat Simulator could have been considered to be the next version of FS98 but for commercial reasons Microsoft choose to release a seperate Combat version first. FS2000 has been released between in October 1999.Combat Simulator is a good option for people who like Combat games and for those people who want to see a kind of preview of FS2000. Below you can see a screenshot of Combat Flightsim scenery in 3D mode. Click on it to see it full screen. CFSII will be released in October 2000
You can see more screenshots on Microsofts Combat Flight Simulator site
First impressions (problems.....)
CFS has been released in the USA on October 30 1998. Not released yet in Europe. Problems has been reported with some CD's. In those cases installations stops after about 55%. If you encounter similar problems with the CFS CD you can inform Microsoft about this by phone: US Microsoft Technical Support at 425-637-9308. They will send you a new CDrom.
It is not clear what is causing this problem but the problem occurs often at high-speed Toshiba CD-rom drives. The use of a Toshiba tool has been helpfull for a lot of people. Download CoolLittleTool (898Kb) from Toshibe-Europe site and bring down your drives speed to 4x. Works only with Toshiba drives. Below a screenshot of the main window.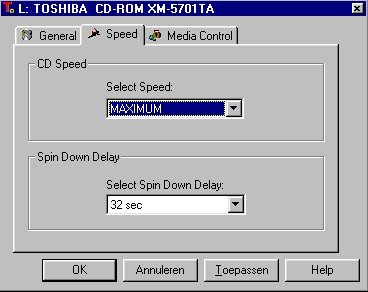 At some (Dell) systems (with the STB 128 graphic board) the complete system freezes at change of views. This can be solved by getting the latest STB drivers from the STB site.
Easter Egg
The first flying pig. I couldn't identify Miss Piggy. Maybe it's her brother. Go to
N51*, 9.86, W1 *50.63
And another easter egg: Using Windows Explorer go to the "missions" folder inside of the Combat Flight Simulator directory and rename the missions named "Special.mi_" and "Team.mi_" to "Special.mis" and "Team.mis" - This will make them available on the CFS single mission listing. The special.mis mission is quite good, and in the other you'll be flying with the team that worked on CFS (literally!). Thaks to Jim Deadman / Big Bird.
CombatFS Files
CombatFS dedicated planes will show up here. The first one,the Messerschmidt ME262A jet (1,4Mb) is available complete with sound and panels. Original by Bernd Drefahl, changed for CFS by Nukeya.
Native Language radio files
Microsoft released native language files. Adding more realism to Combat Flight Simulator, you can now download German (1,6Mb) , British (1,7Mb) and American (2,5Mb) sound files so you can hear radio chatter spoken in each specific language. Want to hear real German radio chatter while piloting your Messerschmitt through the missions and campaigns? Then download the German sound files. Or, if you have the German language version of Combat Flight Simulator and want to hear real American and British radio chatter, then download both of those sound files.
To install the native language files:
1. Save the .zip file to a temporary directory on your hard drive. Unzip the file into the same location. You'll see an appropriately named directory (either American, British, or German) containing hundreds of .wav files.
2. Go to the Combat Flight Simulator directory that contains the radio chatter files and rename the existing language directory. The default setup location of the radio chatter files is: C:\Program Files\Microsoft Games\Combat Flight Simulator\Sound\Radio\American, British, or German. For example, if you are replacing the German radio files, rename the German directory to German_old.
3. Copy the entire unzipped directory of files from the temporary directory into the Radio directory in your CFS installation. That's it, you're done.
[Fs6] [ FS98] [FS2000] [Files] [About Me] [Charts] [Organization] [Links]
© 2000 JohanvCranenburgh