Bert Vierstra designed a beauty of a fantasy scenery placed near TOGO in Africa. You will be placed on a runway and around you, you will see various static and turning boxes. The goal is to perform a crashfree and fastest possible right hand or left hand circuit through these boxes.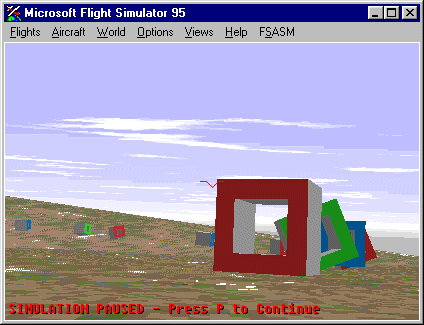 Download the file clicking on the big red box in the picture
You will find a togo.stn file in the zip. Place this one into your X:/flight simulator/challenges directory. Copy the togo.bgl file in your scenery directory. Read the documentation and jump into the program, choose the TOGO challenge. Have fun.
If you want to report your experience and tell others how you survived, please tell it to me using the Guestbook below.
This file is copyrighted.Bert Vierstra gave me exclusive permission to make this file available at this homepage. Please do not copy this file to other servers and of course, distribution on commercial BBS-ses, commercial or non-commercial CD-ROMs or disk is strictly forbidden.
Sign My Guestbook View My Guestbook